Busty Christina Hendricks did her 1960s-era "Mad Men" character justice in a curve-hugging emerald green gown with incredible cleavage, which complemented her red hair that she wore in a up-style twist.She was glamorous, elegant and she pushed it.
With her milky with skin she looked so sexy with a stunning silhouette. Seems Chrsitina was the one to bring some missing big breasts glamuor to Emmys 2008.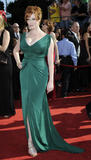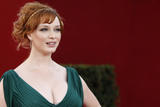 And that magnificent video, I Love how those boobs shake when she laughs ...