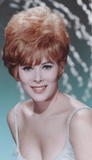 Lovely curvaceous redhead Jill St. John was born August 19, 1940in Los Angeles, California, and in school, she was a classmate of another big star of her era, Nancy Sinatra.
Making her TV debut in a production of "A Christmas Carol," Jill began blossoming and attracting the right kind of attention in her late teens. She signed with Universal Pictures at age 16 and made her film debut as a perky support in Summer Love (1958). Moving ahead, she filled the bill as a slightly dingy love interest in such innocuous fun as The Remarkable Mr. Pennypacker (1959), Holiday for Lovers (1959), Who's Been Sleeping in My Bed? (1963), Who's Minding the Store? (1963) and Honeymoon Hotel (1964).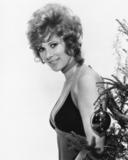 St. John played her major film roles during the 1960s and early 1970s, including Barbara Tuttle in Jerry Lewis's Who's Minding the Store? and a turn as Bond girl Tiffany Case opposite Sean Connery in the 1971 James Bond film, Diamonds Are Forever. In the 1980s, she starred with Dennis Weaver on the short-lived soap opera, Emerald Point N.A.S., in which she played Deanna Kinkaid, Thomas Mallory's conniving former sister in law.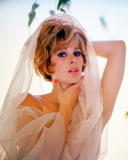 St. John continues to act. Her roles in the 1990s and 2000s have primarily been for television sitcoms and made-for-TV movies. In 1997, St. John had a guest appearance on the Seinfeld episode "The Yada Yada". She portrayed Mary Oakley in The Trip in 2002.