Unlike other big breasted singers cum actresses in the mainstream, many of whom are shoehorned by publicists into places where they don't belong (Britney and Mariah Carey come to mind),
Renee
's transition has seemed natural. She's an all-around (and we love those rounds) entertainer.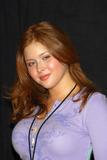 In 2004, busty Olstead released an eponymous album of jazz songs and pop standards for Warner Bros. Records to good reviews; since her previous releases had limited distribution, this album was considered her true debut. She was singing and acting in musical stage productions before her 10th birthday, and got some TV shows and movies under her belt in her second decade.
Though many of her movie roles were negligible ones, they paved the way to a major sitcom role on CBS's Still Standing.