Julianne Moore stole the red carpet show at New York's premiere of "The Kids Are Alright," in a custom-designed Erdem black-and-white floral gown that the actress paired with sexy smoky eyes and nude lips.
"This is not my everyday beauty look! But it's fun for a night out," the 49 year-old mom of 12 year-old son Caleb and eight year-old daughter Liv Helen told media.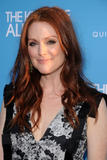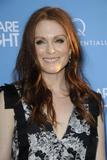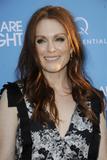 Julianne Moore literally got hot while filming lesbian sex scenes with Annete Bening as they had to make love beneath a huge blanket.
The redhead almost fainted while filming the scenes for 'The Kids Are All Right' and her director Lisa Cholodenko was worried while shooting, reported New York Daily News.
The 49-year-old actress is involved in several erotic sequences with Bening, 52, and the pair were left stifled by the thick bed linen.
"Julianne had to spend a lot of time under it, and I started to get really worried. I kept asking Anne, 'Is she suffocating down there?' and Julliane would reply, 'I'm fine under here, let's keep going!'," said Cholodenko.
In the comedy, Moore and Bening play a lesbian couple, who are the mothers of two children conceived via artificial insemination.