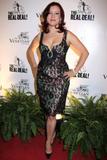 This busty beauty has been spending a lot of her life as a brunette, but once again her current state is a redhead. Thank God, so I can feature her here :)
Anyway, when starting her career Tilly had small roles in TV shows and movies beginning in 1983. She had a recurring guest role on Hill Street Blues as Gina Srignoli, a mobster's widow who becomes romantically involved with detective Henry Goldblume. Jennifer Tilly also appeared as Garry's girlfriend on It's Garry Shandling's Show, which aired on Showtime in the mid 1980's.
Tilly's breakthrough film role was as a singing waitress in The Fabulous Baker Boys (1989) in a part that was specially written for her by Steve Kloves. Tilly appeared in Bound, which revolves around a lesbian relationship her character has with Gina Gershon.
On June 27, 2005, Tilly won a World Series of Poker bracelet (and $158,625) in the Ladies' No-Limit Texas Hold 'Em event, outlasting 600 other players. She followed up this accomplishment on September 1, 2005 by also winning the third World Poker Tour Ladies Invitational Tournament held at the Bicycle Casino in Los Angeles. Tilly has appeared in the GSN Poker Royale series. She appeared in the third season of Poker Superstars but was eliminated in the preliminary round.